About Our Pharmacy

At Leos Lakeside Pharmacy everyone shares the majority of the jobs at hand.
Testimonials

Leo's Lakeside Pharmacy has become a marvelous drug store. It is very efficiently run and much friendlier and more accommodating than other pharmacies. Here you are treated as a person, not just a name on prescription bottle. I pick up prescription reffills frequently and appreciate the quick service. The interior of the store has been tremendously improved by its present owner, Raj, and shelves are now so well stocked there is no need for trips to a large chain drug store. Leo's is a very good place to get your flu shot or other vaccination. I am glad that we now have such an excellent local pharmacy in Lakeside.
Rich Kloman

Our family has always been very loyal leo's customers because we love the convenience – from prescriptions, cosmetics, household needs, you can find it at Leo's. We also feel good shopping there because we know it is locally owned and they are always so generous about giving back to the community
Anil Ukani

Raj has been our pharmacist even before he opened his own pharmacy. He and all of the Leo's staff have always provided us with excellent over-the-counter service, by utilizing their wealth of knowledge pertaining to current and new medications, their willingness to share that knowledge whenever we have a question and the friendly atmosphere. We appreciate and have trusted Leo's pharmacy for many years, with all of our prescription medication needs.
Venkat Immanni
All of our trained technicians work on processing and filling prescriptions, ordering the medications needed, as well as working on getting prior authorizations and T.A.R.'s for our customers in a timely manner. And our clerks work together on getting refills for our customers, making sure our deliveries and mail prescriptions go out each day and order the over the counter items for the store. Even though we all work together as a team each of our trained staff members also have their expertise in certain areas. Let's meet the Leo's family:
Raj Zalavadiya
Raj is our Pharmacist; he is here to answer any and all questions or concerns you may have. He took over the pharmacy in 2009 and has since brought new and exciting things to Leo's. He is always striving to bring the customers the things they may need, and to help them to understand and have knowledge about their pharmaceutical needs. Even on the busiest of days Raj always has time for our customers as he knows them by name and sees them as family. He is very understanding and will try to help in any way he can to insure that you get the things you need to keep you healthy. Raj can also speak his native language(Hindi) and Spanish so that he can help our customers better understand their medications.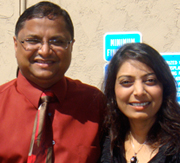 Ram & Varsha
Ram and Varsha: Ram is Raj's partner and He is a Pharmacist, He work at Alvarado Community Pharmacy and he believe in an excellent customer service. varsha is a nutritionist and Ram's wife, she has a very good knowlede about diabetic diet, she is always there to help and educate our diabetic patient.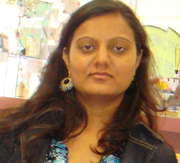 Archana Zalavadiya
Archanna is Raj's wife and she comes into the pharmacy from time to time to help out where ever she is needed. She is very sweet and friendly and always eager to help anyone who needs it. We love having her smiling face around, and the customers love seeing her too. She learned very quickly many aspects of the pharmacy and is a great help.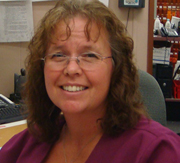 Dawn Lockart
Dawn works in our office and has been with Leo's since 2000. We rely on her a lot throughout our day as she handles the finance, billing and many other jobs here. She assists us with answering the phone as well as helping at the counter from time to time and over sees the deliveries and mails that go out each day. She is a jack of all trades you could say and always does it with a smile.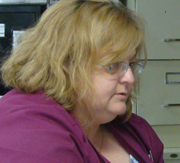 Lesley Matuska
Lesley is one of our Pharmacy Technicians and has been with Leo's since 1993. She is our go to gal in many ways. She has a great knowledge about insurance coverage, and billing. She is defiantly the one to go to when you need someone in your corner. She fights for our customers to get them the supplies and medications they need all while keeping the customer informed on what is happening. She is always willing to talk with customers when they have new insurance plans to choose and helps them to find the plan that is right for them.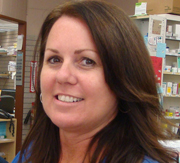 Lori David
Lori is one of our Pharmacy Technicians and has been with Leo's since 2007. You may have seen her zipping around the pharmacy as she is very speedy and precise. She over sees our ordering of medications and keeps an eagle eye on unavailable items and when they may become available again. She also keeps close tabs on the cost of medication to ensure that we are able to keep our prices low for our customers.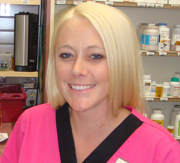 Sarah Cooksey
Sarah is one of our Pharmacy Technicians and has been with Leo's since 2008. She heads up our monthly refill program making sure our patients get their refills on time every month worry free. She also has great knowledge on the Medical DME Supplies and works on getting them covered and ordered for our customers in a timely matter.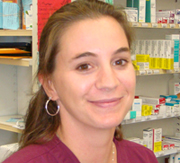 Megan Mount
Megan is one of our Pharmacy Technicians and has been with Leo's since 2009. She works on Prior Authorizations and T.A.R.'s throughout the day. She is also the go to girl on our Bell Product's making sure we have them in stock and taking orders for customers. She also helps our clerks when needed, she is bilingual and loves to interact with the customers.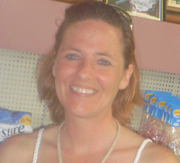 Theresa Orvise
Theresa is one of our clerks and has been with Leo's since 2004. She knows most our customers by name and loves to help them out. She has a lot of knowledge of how the pharmacy works and can help you find what you are looking for. If we don't have it she will try and find a way to get it for you. She also has a good relationship with many of the doctor offices in the area as she has been talking to them for a few years now, and will try her hardest to get you what you need.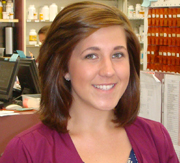 Kayla Douglas
Kayla is one of our clerks, she started out here at Leo's in 2007 as a stock person and has worked her way up to the clerk position. She has learned a lot and can help assist in finding items you may want or need. She maintains the dollar section in our store and is always looking for something new to bring to our customers at a low price. Oh and did we mention she was also the 2010 Lakeside Rodeo Queen.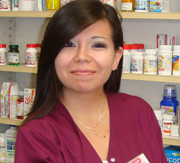 Ruby Briseno
Ruby is the newest addition to our family and has just started here as a clerk in 2011. She is very helpful and eager to learn new things. Ruby is bilingual and is very helpful in assisting our customers in understanding many things. She is quickly learning and should have her own expertise soon.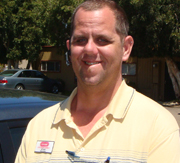 Jeff Heidt
Jeff is our delivery driver and has been with Leo's since 2010 He delivers medications from our pharmacy to patients homes Monday thru Friday from 1p.m. to 7p.m. He is very friendly and has a great relationship with our customers to whom he delivers.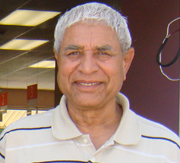 Bavchand
Bavchand is Raj's father and you may see him from time to time as he comes in to keep Leo's tidy. He loves to see and greet our customers. He enjoys working around the pharmacy to keep shelves stocked and the pharmacy looking its best. No one can do it better than Bavchand.